In today's fast-paced world, having a functional and ergonomic workspace is essential for productivity and well-being. Our electric adjustable stand-up desk offers numerous advantages over traditional desks, providing a versatile and comfortable solution for both children and adults. In this article, we will explore the key features and benefits of our product.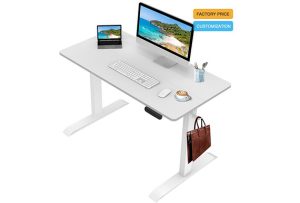 Formaldehyde Test Report: Ensuring Indoor Safety
Our electric adjustable stand-up desk has undergone rigorous testing and meets the GB 18580-2017 formaldehyde emission standard of 0.05mg/m3, which is lower than the national standard. This ensures that our desk is safe for indoor use and aligns with health regulations.
Double Beam Reinforcement Design: Durability and Enhanced Load Capacity
Unlike other desks with a single girder design, our desk features a double beam reinforcement design. This upgraded reinforcement enhances the desk's durability, allowing it to withstand a powerful load capacity of up to 200 lbs. In comparison, other products on the market typically have a load capacity of only 80 lbs, indicating their shorter life cycle.
Dynamic Load Bearing: Supporting Heavy Items
With a dynamic load bearing of 90kg, our electric adjustable stand-up desk can easily accommodate heavy items such as computer monitors, books, and office supplies. This ensures that you can organize your workspace efficiently without worrying about exceeding the desk's weight limit.
Small Yet Powerful: CU Certified Silent Motor
Our desk is equipped with a CU certified high-performance silent motor, which operates quietly and smoothly. Despite its compact size, the motor provides powerful and reliable height adjustment, allowing you to switch between sitting and standing positions effortlessly.
 Adjustable Lifting Range: Suitable for All Users
The desk offers a lifting range of 690-1150mm, making it suitable for both children and adults. With two sections of formal lifting table legs, we have increased the lifting range, accommodating various user heights and preferences. This versatility ensures that the desk can be used in a wide range of settings, from home offices to professional workspaces.
Conclusion
Our electric adjustable stand-up desk stands out from the competition due to its formaldehyde-free construction, double beam reinforcement design, dynamic load bearing, small yet powerful motor, and adjustable lifting range. By investing in our desk, you can create a healthier and more productive workspace that adapts to your needs. Experience the benefits of ergonomic design and enjoy the flexibility of a stand-up desk for improved well-being and efficiency.